Westclox Clock Departments
Westclox Big Ben Moon Beam Alarm Clock Aqua Blue 43006X
43006X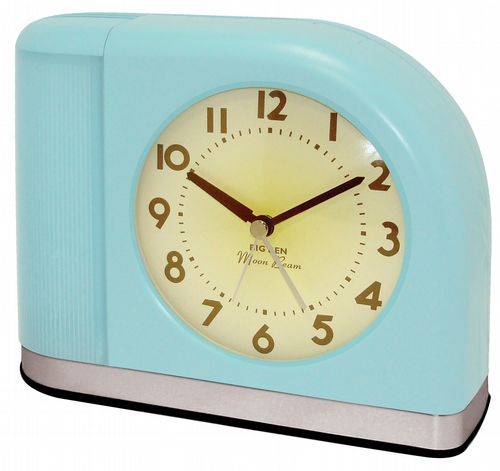 This is the brand new Westclox Big Ben Moon Beam alarm clock 43006X model that Moonbeam fans have been waiting for! Originally created in 1952, the Moon Beam clock is the #1 best seller in its category, and has consistently been a conversation piece, a center of attention, and a friendly reminder as to what time it is and when to awake.
This updated Westclox 1950's classic has a great vintage retro look that thousands of Americans know and love to wake to, every morning.
Once dubbed The Considerate Alarm, it gradually wakens sleepers with a flashing soft LED light that increases in intensity. After 4 minutes, it sounds a bell alarm to waken heavier sleepers. Choose Light Only, Bell Only, or Light and Bell alarm options for the perfect personalized waking experience!
The fully illuminated dial with a separate On/Off switch allows for easy reading even in the dark and lends ambiance to the room.
Updated from the original design, this aqua blue Moon Beam 43006X with a metallic band accent has an electric analog movement, and features an antiqued, Big Ben dial with brown Arabic numerals and hands protected by a convex lens.
Also includes a snooze feature and battery back-up for timekeeping reliability during power outages (2 AA batteries, not included).
Imported.
Dimensions: 5"H x 7"W x 3"D.